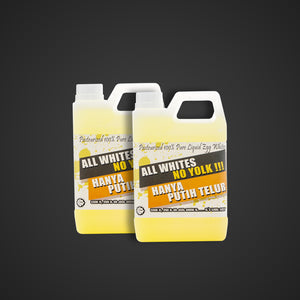 myeggwhite-store
Egg White 2L x2
Sale price Price RM88.00 Regular price RM92.00
Tax included.
Shipping
calculated at checkout.
MyEggWhite Pasteurized 100% Liquid Egg Whites is real food and not a supplement. Egg Whitest provides the human body with 100% bio-available protein to 'feed'  muscles and the immune system of an individual. Liquid egg whites are versatile enough to be used in any cooking or drink. It's odourless, tasteless but packed with high protein, all 9 amino acids, minerals. no fat and no cholesterol . 
It is the most suitable food for those who are reducing weight, suffering from diabetic, chemotherapy, dialysis, high blood pressure, coronary patients. It's the most convenient and safe way for bodybuilders, athletes,  as well as those looking to maintain a healthy lifestyle. It is also suitable for the
 vegetarian diet.
Many way's to consume MyEggWhite :
* Mix or Blend it in your Cold Juice or Hot Drink
* Or Just Drink It...........that easy...get creative with it!!
* When mixing in whey, please reduce whey content.